Email Marketing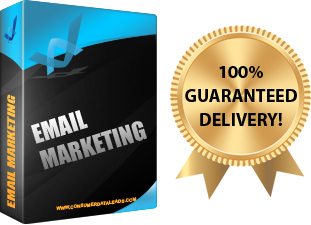 CDLData.com's New Email Marketing Program
As an ISP (Internet Service Provider) we 'GUARANTEE' 100% delivery into the end-users INBOX or your money back. No Spam/Junk folder!
Email Marketing Campaigns Services – Build, Send & Track – We Handle it all from A to Z
CHOOSE A CAMPAIGN SIZE, PLACE AN ORDER & WE SEND THE EMAILS!
Email any flyer of your design with your own provided contact list or use ours, and we will take care of the rest. Review all campaigns on your own online dashboard in real time.
Step 1) Select the number of emails below you wish to have broadcasted.
Step 2) Type in the Subject Line to use in your outbound messages.
Step 3) Submit your flyer.
Step 4) Place the order. Campaigns are sent within 24-48 business hours.
Step 5) Login to your online dashboard and track results in real time.
0 to 2500 emails delivered for $9.95 / mo
2501 to 5000 emails delivered for $19.90 / mo
5001 to 7500 emails delivered for $29.85 / mo
7501 to 10,000 emails delivered for $39.80 / mo

One-time $100 non-refundable personal dashboard set up fee. Campaign will go out 2x/mn for one month
NOTE: Campaigns going longer than one month, cost is the appropriate email cost above times number of months desired, 1st and last payment with registration, 30 days prior written notice to cancel, no contract.
Email marketing campaigns of 10,000+ emails call for pricing.

Setting up your Email Campaign is Simple.
Here is how it works:
1) Prepare your flyer or message for your campaign and save it to a text file, html file or Word document.
2) Next create a Subject Line that you would like to use for your outbound messages. Its best to use something that is short, concise, builds interest and is not more than 4 – 5 words in length. Strong subject lines have a better chance of capturing the attention of your prospective audience. The use of an enticing "benefit statement" is an excellent way to increase response and the open rate linked to your campaigns.
3) Click an "Order Now" button next to the campaign package that best suits your needs. You will be directed to our order form to step you through the process.
4) Campaigns are normally initiated within 1-2 business days.
5 ) Once your campaign begins, statistics are logged and tracked on our servers. Details include: Beginning and ending times of your campaign, the quantity of emails delivered, the number of opens or how many prospects have read your email and the number of click through's to your web site. All email marketing campaign statistics are emailed to you upon completion of your campaign.
CDLData.comoffers our clients two different types of email advertising services:
General Email Campaign Services – Could your product or service be of interest to virtually anyone? Bulk Email Marketing Solutions offers a cost effective way to advertise your product or service which does not require being placed in front of a specific targeted group of people.
Targeted Email Campaign Services – Does your product or service need to be placed in front of the eyes of a specific group of individuals? Increase conversions and positive response by directing your advertising campaign to a targeted audience.
Email Marketing